Anti Colic Bottles
Category - baby
Colic is a horrible infliction and is present in between 5 and 25% of babies but a lot of cases don't actually get diagnosed because of the tendancy to go away on its own.
Colic can be a nightmare for parents and is obviously stressful for the child. Every parent would do anything to reduce colic and stop the pain. One simple way that you could try is to change the feeding bottle. This is such a problem that a number of manufacturers have come up with their own products to try and solve it.
What is an anticolic bottle?
It is as the name suggests a feeding bottle that is designed to reduce the effects of colic. They look just like a standard feeding bottle but their teats are designed to reduce the amount of air your baby can swallow while they feed. They often have a little gizmo dangling inside the bottle. Do they work? Some people swear by anti colic bottles and others say that they don't really make any difference at all. Whichever side of the fence you sit on surely it is worth a try for the sake of a few pounds.Below we have some more info and a short review for the most popular anti-colic bottles.
Dr Browns Natural Flow Bottles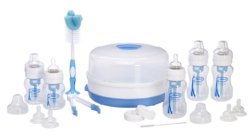 One of the more popular bottles are Dr browns. These are fantastic bottles and some people have even reported a complete lack of colic after switching to these bottles. One complaint some people have is that there are a lot of little pieces with the bottles making washing a little more difficult. If you can put up with the extra cleaning then Dr Browns are the way to go! Watch out for the dribbling around the neck of the bottles.
Click here to read more reviews on Amazon
MAM bottles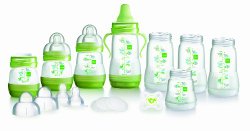 MAM bottles are a great replacement for babies that have been used to breast feeding or fussy babies that only seem to like certain teats. They are supposed to be the most natural feeling in babys mouth but one major gripe some people have is that they are not very durable. After a few months the teats start to fail to function and seem to struggle to control the flow and they leak if not tightened by superman.
Click here to read more reviews on Amazon
Tommee Tippee
Tommee Tippee is perhaps the best known baby bottle brand on the market but are their anti colic bottles any good? A major advantage with these bottles is the price. Tommee tippee are cheap, really cheap. They can do this because of the experience and time they have had in the market so don't let the low price make you think that the quality will suffer. These are good quality products. Like other bottles these have a little device that is meant to stop the air being sucked in making the bottles more difficult to clean. People have reported good results from these teats, saying that they didn't completely cure the colic but did reduce it.
Click here to read more reviews on Amazon
Conclusion
Different babies have different problems and prefer different teats but in our opinion Dr Browns anti colic teats are the best and you should give them a try if your baby is suffering from colic.
More info about colic.
If you need more info about colic it might be worth checking the following links